Add-on
The add-ons allow one to customize their
weapons
. Add-ons may improve the stat of the weapons or give them additional capabilities. The number of add-ons that can be attached to a weapon depends on the number of slots available on individual guns. The add-ons can be bought with
silver
or
crystals
.
The add-ons fit on all weapons and one may attach more of the same type of add-on to the same weapon. Once bought, an add-on can be used on all weapons owned but each add-on can be used once on a per-weapon basis. For example, if you have a
Power II add-on
, you can use it on both your Stinger (a
rifle
) and Hangman (a
shotgun
) but you may not use it twice on the same weapon even though they both have two slots. However, if you also have Power I add-on, you can use both Power I and II on the same weapon.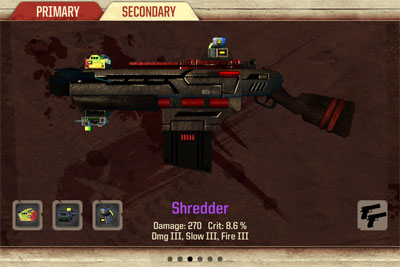 Classes of Add-ons
There are 6 different classes of add-ons in Bullet Time.
Comments
© 2012-2023 The Unofficial Bullet Time HD Guide