Weapons
The weapons in Bullet Time are the primary means of attacking the
mutants
. Weapons can be bought in the
store
with
silver
or
crystals
. To access the store, swipe right on the main menu until you see the buy weapons page. Some weapons are unlocked only when the player reaches a certain
level
. Usually the best weapons can only be bought with crystals and these weapons do not require a minimum player level.
Each weapon has its own base stats regarding its damage ability and
critical chance
. The damage stat refers to the damage output per second given by the weapon. Different weapons also have different number of slots for
add-ons
to improve their ability. Better weapons have higher damage and critical chance and more slots for add-ons. A color scheme is used to indicate the weapon tier. A weapon with its name in orange is of the highest tier, followed by those in purple, blue, green and white (default).
In Bullet Time, any players have infinite ammo and they do not have to buy it separately. Although there is no concern for ammo conservation, the character would slow down to aim while shooting. Even for guns that require quite some time to reload, holding down the shoot button would keep the character in slow motion. This issue leads to the view of
running and gunning
with certain types of weapon.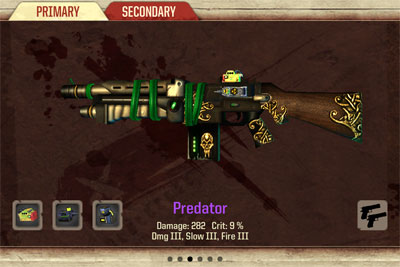 Classes of Weapons
There are 7 different classes of weapons in Bullet Time, each with its own characteristics.
Pistols
,
rifles
and
shotguns
are classified into a broader group called
guns
.
Comments
© 2012-2023 The Unofficial Bullet Time HD Guide