Armor
Not to be confused with Chest Armor.
The armor pieces the character puts on are divided into three main types: the
masks
, the
chest armor
and the
legs
. The armor improves a character's
health
,
defense
,
critical chance
and
speed
. The armor can be purchased with
silver
and
crystals
. Some armor pieces require a certain
player level
to be unlocked. The best armor pieces can be bought with crystals only and do not require a minimum player level.
Each armor piece has its own stat for health, defense, critical chance and speed. As with weapons, the armor pieces uses the same color scheme to indicate the tier they belong to: those with names in orange are of the highest tier, followed by those in purple, blue, green and white (default).
Hats
are a unique class of armor in that each piece comes with a single distinct stat for defense, critical chance or speed.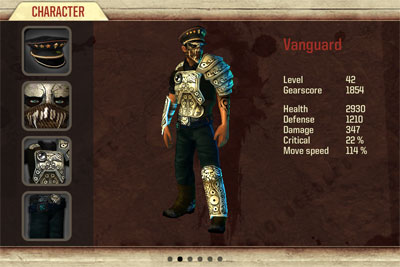 Comments
Where can u see what the next update will be about ?!: D
Bravo Two

Admin

9 years ago
As a matter of fact, everything in this game can be earned. It only depends on how much time you are going to invest in this game.
I finally bought paladin chest by earning :D
Bravo Two

Admin

9 years ago
Congrats "Legend". You are so quick to get to Level 70.
When u get to lvl 60 it says "hero"
Bravo Two

Admin

9 years ago
@SUPER*BEAST Sent you a message, please check.
Hey admin do u know what to do or when they are going to fix the problem I have with archivements cus in the game I have 18 but in game center it only shows 15.?
© 2012-2021 The Unofficial Bullet Time HD Guide